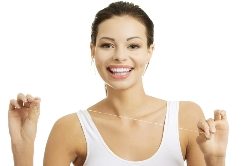 Flossing, along with brushing and rinsing with dentist recommended mouthwash, is an integral component of a truly comprehensive home dental healthcare regimen. Regularly flossing your teeth mainly removes bacteria buildup and loose food particles in the hard to reach corners of your mouth.
Just as importantly, thanks to recent technological advancement that modern dentistry has seen over the recent years, a growing number of dental floss products are now proving to be effective tools to whiten your teeth.
How Flossing Works
It is important to note that unlike traditional whitening products and procedures, dental floss doesn't rely on bleaching to whiten your teeth. Instead, higher end teeth-whitening products whiten dental surfaces by thoroughly removing miniscule food particles and plaque buildup that typically cause visible dental discolorations
Dental floss cleans the teeth in pretty much the same fashion that vacuuming works, in the sense that a vacuum doesn't actually whiten floor surfaces but instead makes surfaces appear whiter by removing dust and dirt.