Dental Crowns and Bridges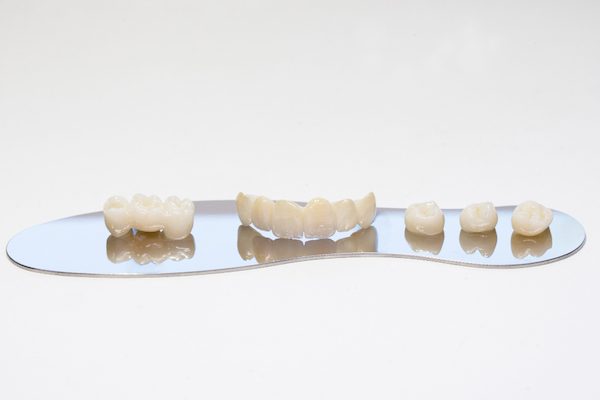 Crowns and Bridges Main Beach
Damaged and missing teeth may be very common dental concerns.
But they need not be a huge problem with quality Dental Crowns & Bridges.
Dental Crowns
A dental crown looks like a cap which entirely covers the whole surface of the tooth that needs to be restored. These caps are made of porcelain and are used to bring back the function and appearance of chipped, broken, decayed, or weakened teeth. Dental crowns are specially crafted to look and feel just like your natural teeth.
Dental Bridges
If you want to restore multiple missing teeth, then having a dental bridge is the right solution for you.
A dental bridge is composed of several tooth restorations to take the place of up to four missing teeth. Note though that Dental Bridges can only be installed if there are healthy teeth at both ends of the gap.
Dental Bridges are actually held by Dental Crowns which are placed on these healthy teeth.
Dental Bridges are extremely stable and thus, bring you the best comfort and fit as possible.
The Exact Process Of Getting Dental Crowns & Bridges
With the advent of more advance technology used in Restorative Dentistry, you do not have to wait for several days for your tooth restorations to be completed.
Now, you can have your Dental Crowns & Bridges at the exact same day you visit our dental clinic at Main Beach Dental. Your tooth restorations can be installed immediately, taking only one appointment, through the use of the latest 3D digital imaging and on-site CAD/CAM porcelain milling.
In addition, your trusted dentist in Gold Coast will also give you with great insights on how you should care for your teeth properly.
With sufficient oral hygiene and expert guidance from your dental care partners at Main Beach Dental, your new tooth replacements will surely endure, giving you completely healthy smiles for a long time.
Dental Crowns and Bridges in Main Beach
Damaged and missing teeth can lead to more serious health risks.
Before the matter becomes much worse, visit us at Main Beach Dental today for Dental Crowns and Bridges in Gold Coast or other dental treatments under Restorative Dentistry.
We will design a dental plan to come up with the best solutions and the most desirable results for you.
Dental Crowns and Bridges in Main Beach
Book your appointment online with your Main Beach dentist and claim your FREE initial dental consultation today.
Call us on (07) 5503 1177 or visit at 11/26-30 Tedder Ave in Main Beach.
We'll be glad to hear from you. At Main Beach Dental, your overall dental health is at good hands.