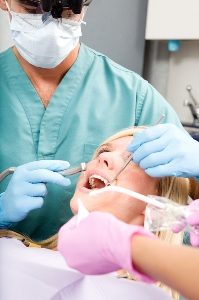 Technically referred to as periodontal disease, gum disease is a chronic infection that affects the soft periodontal tissues. Gum disease typically results to a number of unwanted dental anomalies such severe soft tissue damage and tooth loss, among many others.
If left untreated for a significant amount time, chronic infection of the gums is known to negatively impact the heart, overall health, and general wellbeing, altogether.
Types Of Gum Disease
Gum disease typically falls under 2 basic classifications. Gum disease is either in its earlier age, which is referred to as gingivitis, or in its more advanced stage, which referred to as periodontitis.
Gingivitis
Typically characterized as early stage gum disease, gingivitis often manifests as swollen gums that bleed easily. For the better part of it, most cases of gingivitis are still easily treatable and even reversible.
All it takes to treat gingivitis is the rigorous practice of good dental habits such as brushing with fluoride toothpaste, flossing with good quality mouthwash, and rinsing with dentist recommended mouthwash. These, of course, are to be complemented with regular visits to your dentist.