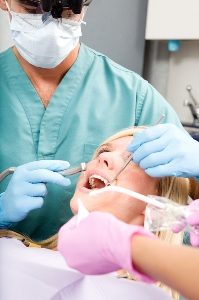 Technically referred to as periodontal disease, gum disease is a chronic infection that affects the soft periodontal tissues. Gum disease typically results to a number of unwanted dental anomalies such severe soft tissue damage and tooth loss, among many others.
If left untreated for a significant amount time, chronic infection of the gums is known to negatively impact the heart, overall health, and general wellbeing, altogether.
Types Of Gum Disease
Gum disease typically falls under 2 basic classifications. Gum disease is either in its earlier age, which is referred to as gingivitis, or in its more advanced stage, which referred to as periodontitis.
Gingivitis
Typically characterized as early stage gum disease, gingivitis often manifests as swollen gums that bleed easily. For the better part of it, most cases of gingivitis are still easily treatable and even reversible.
All it takes to treat gingivitis is the rigorous practice of good dental habits such as brushing with fluoride toothpaste, flossing with good quality mouthwash, and rinsing with dentist recommended mouthwash. These, of course, are to be complemented with regular visits to your dentist.
Periodontitis
Periodontitis, on the other hand, essentially results from untreated gingivitis. Generally characterised as advanced stage gum disease, periodontitis is usually symptomatic of receding gums, which later on progresses to the formation of infected pockets, and eventually to soft-tissue and jawbone deterioration.
Without professional dental intervention, periodontitis can easily result to tooth loss.
Dentist In Gold Coast
Apart from rigorously practicing good dental habits at home, what best increases your chances at treating and even preventing gum disease is keeping regular appointments with your local Main Beach dentist. For top-quality dental solutions performed in a comfortable and state-of-the-art environment, visit local Dentist In Gold Coast at Main Beach Dental.
Main Beach Dental is committed to bringing the very best of modern dentistry widely available to the local Gold Coast community and its surrounding regions. Claim your FREE dental appointment by calling us on (07) 5503 1177. Or simply booking an appointment online.