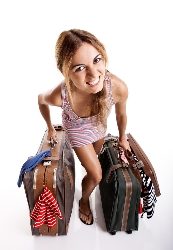 These days, it seems that everyone always has someplace else to go to. It is exactly because travelling has become a rather frequent activity that there should be given enough emphasis in things that make for our otherwise everyday routine — among the most common of which of which include proper home oral health care. It is important to bear in mind that travelling is no excuse for blatant disregard to proper oral health care. Among the most practical way of maintaining proper dental hygiene while on the road, especially when you're packing light, is to make sure that you carry are carrying a small pack of soft dental floss.
Dental Floss
Soft dental floss is a very practical way of keeping your teeth free from miniscule food particles that, when left unremoved for an extended period of time, is detrimental to the overall status of your oral health. Soft dental floss, to date, still remains among the most effective interdental cleaners. Flossing, of course, should be complementary to frequently brushing your teeth. When travelling, it is ideal to have a small travelling toothbrush that folds back into its container. In instances when you are travelling for an extended period of time, especially when you are travelling in another country, make it a priority to pay your dentist a visit before the expected schedule of you travel.
Visit Your Dentist
It is important to schedule any pre-travel visit to your dentist months in advance. It is generally a bad idea to go under any major dental procedure — like tooth extraction or root canal therapy — before your trip. If you, however, are already are in the middle of dental treatment, you might as well ask your dentist for specific instructions on how to best manage your dental condition while you're away.
Dentist In Gold Coast
Apart from rigorously practicing good dental habits at home, what best increases your chances at treating and even preventing gum disease is keeping regular appointments with your local Main Beach dentist. For top-quality dental solutions performed in a comfortable and state-of-the-art environment, visit your local Dentist In Gold Coast at Main Beach Dental. Main Beach Dental is committed to bringing the very best of modern to the local Gold Coast community and its surrounding regions. Claim your FREE dental appointment by calling us at (07) 5503 1177. Or simply book an appointment online.