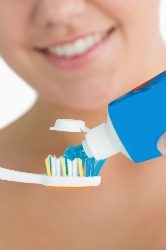 These days, people are often left overwhelmed by the large number of toothpaste selections available at aisles of their local grocery stores and pharmacies. To this, most people opt to try different brands of toothpaste and stick to the ones that they like best.
It is true to a certain extent that the best toothpaste is one that you like, enough to use everyday. You can try purchasing a few different types of toothpaste to cater to the taste and needs of each of the member of your family.
At present, toothpastes come in all shapes, sizes, varieties, and formulations. And while there are toothpastes to the meet the specific dental needs of virtually everybody, purchasing one that is recommended by the Australian Dental Association remains your best in preserving and improving the natural health and vitality of your teeth and gums.
This said, there are particular types of specialty toothpastes that are formulated to accommodate rather specific dental needs.
Antimicrobial Toothpastes. Antimicrobial toothpastes are typically prepared with stannous fluoride, which is mainly an antibacterial ingredient that also works as anti-cavity and anti-sensitivity.
Tartar Control Toothpastes. Tartar control toothpastes are typically formulated with sodium pyrophosphate, which is an ingredient that actively prevents plaque from forming on the surfaces of the teeth. Other tartar toothpastes are prepared with sodium hexametaphosphate, which prevents both plaque buildup and dental staining.
Whitening. Most commercially available whitening toothpastes are formulated with chemical and abrasive ingredients that, when used with frequent regularity, prevent dental stains from forming on dental surfaces.
Dentist In Gold Coast
Apart from rigorously practicing good dental habits at home, what best increases your chances at treating and even preventing gum disease is keeping regular appointments with your local Main Beach dentist. For top-quality dental solutions performed in a comfortable and state-of-the-art environment, visit your local Dentist In Gold Coast at Main Beach Dental.
Main Beach Dental is committed to bringing the very best of modern to the local Gold Coast community and its surrounding regions. Claim your FREE dental appointment by calling us at (07) 5503 1177. Or simply book an appointment online.