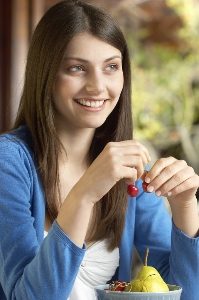 Your diet directly affects your mouth and your oral health. If you eat right, the nourishment you receive helps build a better body, and therefore healthier teeth and gums. It is not an exaggeration to say that the food you eat can ultimately prevent dental decay and periodontal disease.
While a healthy diet, especially one that is rich in fruits and vegetables, generally improves the wellbeing of your mouth, there are a few standout foods that can bolster your oral health.
Calcium
While most vital during the physically formative years of childhood, the value of calcium doesn't diminish even as we get older. A daily diet with adequate calcium levels help prevent otherwise unnecessary cases of dental decay.
A study that saw publication in the Journal Of Periodontology reports that people whose daily calcium intake are at 500mg, or about half the recommended dietary allowance, were at a significantly higher risk of suffering from periodontitis than people who meet the recommended calcium intake.
Vitamin C
Foods rich in vitamin C are essential both in repairing connective tissues of the body and in fighting off viral and bacterial infection. Researchers at the State University of New York at Buffalo publish a study that reports that people whose daily vitamin C consumption are at 75 mg per day are approximately 25% more likely to develop early stage gum disease that those whose daily diet meet the average vitamin C requirement.
Dentist On The Gold Coast
While diet in itself is essential in improving and preserving the natural health and vitality of your gums and teeth, maintaining good oral health still requires religiously keeping good dental habits such as regular and frequent brushing, flossing, and rinsing. It is, of course, an imperative to keep regular visits to your local Dentist on the Gold Coast at Main Beach Dental.
For top-quality dental solutions performed in a comfortable and state-of-the-art environment, visit your local Main Beach dentist at Main Beach Dental. We are committed to bringing the very best of modern to the local Gold Coast community and its surrounding regions. Claim your FREE dental appointment by calling us on (07) 5503 1177. Or simply book an appointment online.