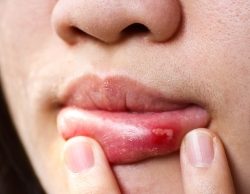 Medically referred to as aphthous ulcers, canker sores are characterized by shallow lesions that affect your oral tissues. Remarkably similar to cold sores, canker sores are generally uncomfortable. But unlike cold sores, canker sores are typically isolated only to the soft tissues of your mouth and to the base of your gums.
Most episodes of canker sores do note require medical treatment, as it goes away on its own, within a 10-15 day period. Professional dental help is required, however, when an unusually prominent canker sore develops, or in cases when canker sores fail to heal even after 2-3 weeks time.
Symptoms
Canker sores usually appear as yellowish oval-shaped patches within mildly inflamed red borders. These patches usually appear on the inside surfaces of your mouth, on your tongue, cheeks, gums, and even on your soft palate.
People who are afflicted with canker sores typically feel a tingling or burning sensation, most commonly on their inner cheeks, the inside of the lips, and the surfaces of the tongue. Each patch of canker sore usually takes to 2-3 days to form and fully develop. These patches are most painful in their first 3 to 10 days.
Risk Factors
There is a longstanding belief held by dental experts that canker sores run in the family, and are therefore hereditary. Moreover, it is also likely that canker sores are symptomatic of more serious medical conditions such as Behcet's syndrome.
The severity of cancer sore affliction widely varies from person to person. Most people get 1 to 3 patches of canker sore at a time. Still, there is a formidable number of cases where people develop up to 10 patches of cankers sores all at once. Generally, most people develop canker sores a few times in a single year.
Dentist In Gold Coast
Most cases of canker sores do not require professional medical attention. You might want to visit your local Main Beach dentist, however, in cases where the existing sores worsen overtime, or if your canker sores start to appear more frequently than usual.
Housing a friendly team of dedicated dental experts, Main Beach Dental provides the local Gold Coast community and its surrounding regions with a comprehensive range of general, cosmetic, and restorative dental procedures. Claim your FREE dental consultation by calling us at 07 5503 1177. Or simply book an appointment online.