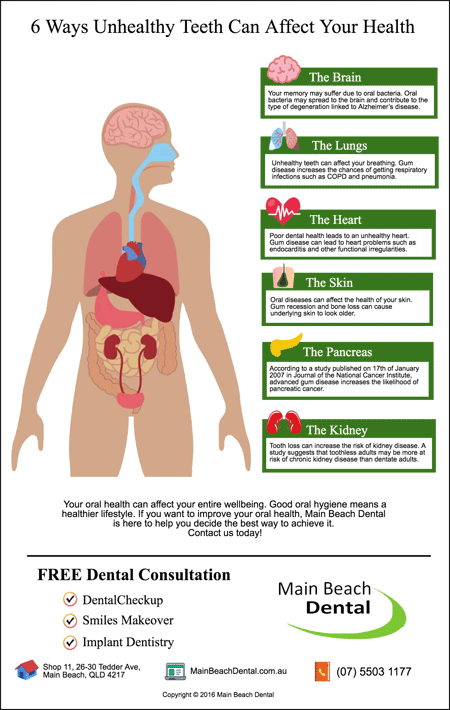 In the past, oral hygiene was not considered as a factor in overall health of a person. However, nowadays, science has proven there is a very strong link between your oral health and general wellbeing.
A poor dental hygiene regimen can cause serious dental and health conditions. Your mouth can be a breeding ground of harmful oral bacteria. If left ignored, it will eventually cause tooth decay and gum disease. Bacteria associated with this oral disease can enter your bloodstream through bleeding gums.
Other medical conditions linked to poor oral hygiene include heart disease, endocarditis, lung condition, rheumatoid arthritis, kidney problems and pancreatic cancer.
The best way to avoid the diseases linked to poor dental care is to keep your teeth and gums healthy. Good at-home dental care, healthy lifestyle and regular dental visits are the keys to keeping your mouth and body in great condition. This is the best prevention to a healthy mouth and healthier life.
For more comprehensive dental care tips and exceptional oral health care, visit your trusted Main Beach dentist here at Main Beach Dental.
Claim your FREE Dental Consultation on Dental Checkup, Smile Makeover, and Implant Dentistry. You are just one-step away from having the smile you always wanted! Book your appointment online or call us today on (07) 5503 1177.