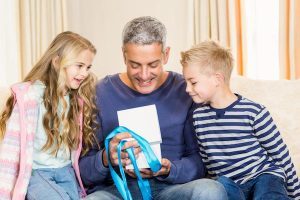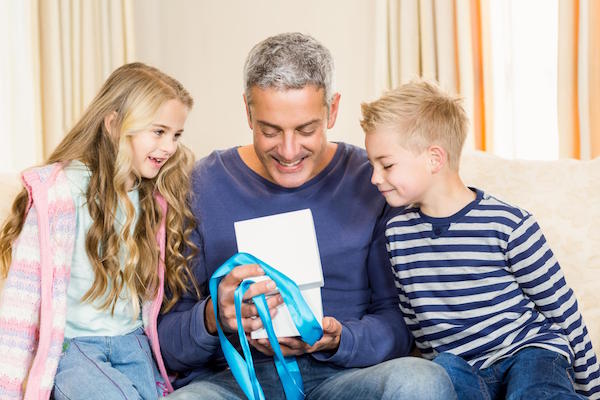 Father's Day (September 1st) is nearly upon us. With it comes the question of what to get the man who raised you?
It is not always easy to figure out what to get a dad on father's day. Dad's often have everything already or aren't great at expressing what they want.
So why not get your dad a gift that is perfect for everyone, the gift of improved dental health?
At Main Beach Dental, we've put together a list of gifts that keep on giving; gifts that help your dad stay healthy and keep his smile bright and shining.
Great Dental Gifts For Your Dad
Electric toothbrush – Who wouldn't want to have their toothbrush upgraded to a cool new electric model? It's a perfect teeth-cleaning device and cool technology at that. Electric toothbrushes offer improved plaque removal compared to regular manual toothbrushes. Many people find electric toothbrushes easier than manual ones. Electric toothbrushes also come with cool features, like built-in timers to ensure that your dad brushes for long enough.
Travelling dental kit – This is great for a father who likes to go camping, fishing, or hunting. You can buy this ready-made, or create your own. A good travelling dental kit should contain:
If a kit is too bulky, at least buy a folding toothbrush. These travel toothbrushes can be folded down to half their original size and can be tossed into a glove compartment, coat pocket, or desk drawer.
Noise Canceling Headphones – These don't sound like a dental gift, but they can be. Give your dad the gift of a little peace and quiet with noise cancelling headphones. These headphones are great to drown out the annoying noises of everyday life, but they are also great for the dentist's chair. Your dad can ignore the sound of the drill while listening to his favourite music. This is a great gift for dads who may have dental anxiety, as it lets them relax and chill out.
DIY Gifts
Dad's love handmade gifts the demonstrate thought. Here are three options for DIY gifts:
A floss-basket – Floss comes in a wide variety of flavours including absinthe; coffee and waffle flavour with bacon; cupcake; bubble gum; grape; dill pickle; cucumber; ranch dressing, and; even more! Toss a handful together and give your father the gift of tasty oral health!
A dental kit for the road – Some essentials to include are a manual toothbrush, travel-sized toothpaste mouthwash, and dental floss.
DIY Mouthwash Holder – Get creative with a DIY mouthwash dispenser. Mouthwash holders can be made from mason jars, or fill his favourite drink bottle with his mouthwash of choice. Or, give him a mouthwash flask for the road. A quick search of the internet will uncover dozens of clever ways to make a DIY liquid holder!
The Gift Of A Youthful Appearance
Main Beach dental offers several treatments that can help your dad look younger and more vigorous.
Dental Care at Main Beach Dental
At Main Beach Dental your dental health is our number one priority. We provide gentle, skilled care for all dental conditions and work with you to prevent disease, decay, and too many dental appointments in the future. Our commitment to our patients is dental health for a lifetime!
Call your Main Beach dentist on (07) 5503 1177 or visit us at 11/26-30 Tedder Ave., Main Beach.