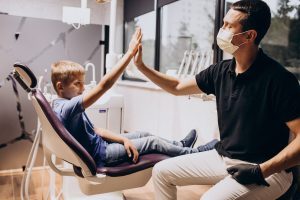 Azenith Arnolds was 10 years old when she visited her dentist for her first tooth extraction.
During the procedure, her dentist failed to properly anesthetize her back molar and hit a nerve spot-on.
The result was a memory of excruciating physical pain and a paralyzing fear of dentists that persists until today.
Few people get excited about visiting their local dentist.
But chronic fear of dentists, otherwise known as odontophobia, prevents millions of people around the world from seeking the proper oral healthcare.
Read on as your local Main Beach dentist shares a few tips on conquering dentophobia inside the dentist's office.
Tips for Conquering Dentophobia Effectively
Sharing your anxiety
Communication with your dentist is important, whether you have a fear or not. If you are tense, it's a good idea to tell your dentist and the dental staff.
When you get your concerns out of the closet, your dentist will be able to adapt the treatment to your needs.
Also, talking with your dentist helps you feel more at ease inside the dental room and banishes your fear about your appointment.
Helping yourself and asking for help from others
Pick a schedule for your dental visit when you are less likely to be rushed.
Other people would choose weekends or early morning appointments.
Also, if you are too nervous about going through the appointment all by yourself, ask a family member or a friend to help you done it.
However, be sure this person has no dental fear and will help you stay calm and comfortable.
Relaxation Methods
One of the best ways to calm down is through relaxation. Breathe and try your best to relax.
Some dental experts would suggest their patients do some relaxation techniques before the appointment or procedure.
Nevertheless, other dentists would recommend activities that will make you feel relaxed, like listening to music or reading books and magazines.
Talk To Your Dentist About Your Fears
Talking about the things that terrify you helps your dentists determine the proper course of action for your dental procedure.
The more relevant information you tell your dentist, the better are his chances of effectively managing and addressing your fears.
By talking to your dentist about your fear, you will feel more comfortable while in the dentist chair.
Know That Modern Dentistry Is A Continuously Improving Practice
Modern dentistry continues to come up and provide newer methods, more relevant technology, and less invasive treatment options that should make you feel more at ease with your dentist.
Find A Dentist You Are Comfortable With
Finding a dentist you are comfortable with goes a long way in reducing your fears and anxiety.
Try to build a trusting relationship with your dentist.
Personalities vary in the dental profession.
Try to find a dental expert who is willing to address your fears immediately and in the long run.
Conquering Dentophobia with your Trusted Main Beach Dentist
When it comes to dental fear and anxiety, your friendly dentist in Main Beach can help you deal with your concerns by giving the best solution you ever need.
Your dental care partners here at Main Beach Dental aim to offer you a comfortable and pain-free dental experience whenever you visit us.
Experience advanced dentistry and patient-friendly care you can trust. Visit your dentist at least every 6 months to ensure optimum oral health.
At Main Beach Dental, we provide each patient with the care that allows them to maintain healthy teeth and a beautiful smile for life!
Our team is highly trained registered dentists with first-class clinical skills who work together to provide you with comprehensive dental services.
We provide gentle, skilled care for all dental conditions and work with you to prevent disease, decay, and too many dental appointments in the future.
Our commitment to our patients is dental health for a lifetime!
Call your Main Beach dentist on (07) 5503 1177 or visit us at 11/26-30 Tedder Ave in Main Beach.