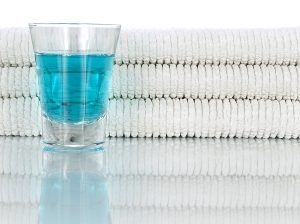 If you were to visit the local oral health section of your pharmacy, chances are that you would be confronted with an all too wide array of mouth rinse products, all of which promising to be the very best in protecting your teeth and gums.
Which of these products live up to their promises? And perhaps more importantly: Do you really need to use a mouth rinse?
According to Assistant Dean for Community Partnerships and Extramural Affairs at Boston University Henry M. Goldman School of Dental Medicine, Michelle Henshaw, DDS, MPH, there are essentially 3 major categories of mouth rinse from a consumer perspective.
First, there are mouth rinse products that are formulated with fluoride. Then there are mouth rinses that formulated to fight against plaque and gingivitis. And there are cosmetic mouth rinse products that most obviously freshens your breath.
Fluoride Formulated Mouth Rinse
Fluoride has long since been known to prevent dental decay mainly by reinforcing the mineral deposits of the teeth. According to Dr, Henshaw, most people with healthy gums and teeth do not really require the use of fluoride rinse. Instead, fluoridated toothpaste is a good enough alternative.
For people, however, who are suffering from chronic dental anomalies such as xerostomia (abnormal dryness of the mouth) or dental decay, fluoride formulated mouth rinse can be especially helpful. Dr. Henshaw remarks that xerostomia is a condition that tends to change the balance of bacteria in your mouth. This consequently results to dental decay. It is in these conditions that fluoride mouth rinses works especially well.
Cosmetic Mouth Rinse
Cosmetic mouth rinses are specifically formulated to freshen your breath. These products, do not necessarily offer any significant long-term oral health benefits. Henshaw remarks that while cosmetic rinses effectively reduce mouth odors and halitosis in general, these products have very limited anti-bacterial properties, and thereby do not really ascribe to any lasting oral health benefit.
Anti-Plaque And Anti-Gingivitis Rinse
Anti-plaque and anti-gingivitis rinses best go hand-in-hand with daily brushing and flossing. These rinses work by comprehensively killing a broader spectrum of bacteria than their cosmetic counterparts. For people who have more chronic oral health problems, there are more advanced and more potent formulations, which are typically available via prescription.
Dentist In Gold Coast
While mouth rinses do in fact provide very tangible benefits in the improvement of your overall oral health status, good dental health care remains a far more comprehensive task that requires both observing proper dental habits and, of course, visiting your local Main Beach dentist.
Main Beach Dental provides the local Gold Coast community and its surrounding regions with a comprehensive range of top-quality of modem dental solutions. Claim your FREE dental consultation by calling us at 07 5503 1177. Or simply book an appointment online.