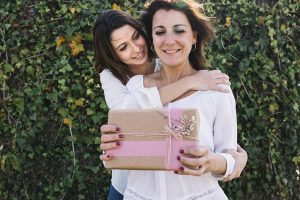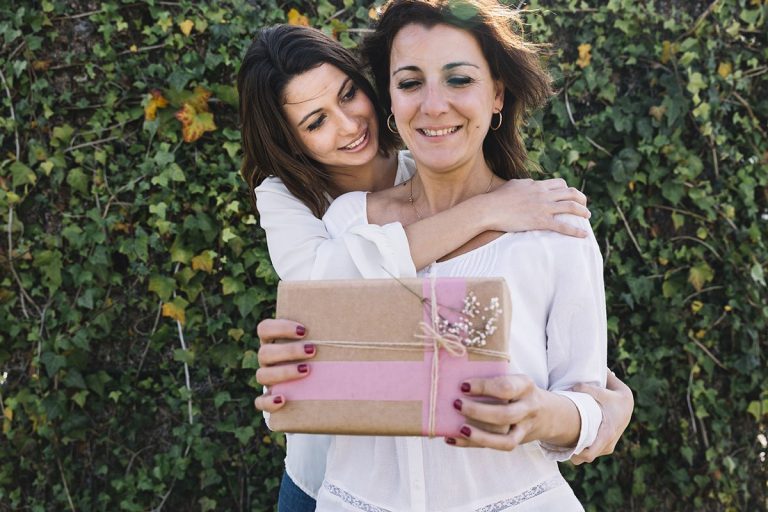 Are you tired of giving Mom predictable gifts like perfume, jewellery, or flowers?
Are you looking for a unique gift for Mother's Day?
If so, Main Beach Dental has gift ideas that will support your Mother's health and make her smile.
Why not present your mother with a gift that shows thought, caring, practicality, and a gift that will last? Give her a dental gift!
Upgrade Mom's at home dental regimen or introduce her to Main Beach Dental's excellent cosmetic dentistry services.
Here are several suggestions, from Main Beach Dental, about great gifts that show your Mom how much you love and appreciate her.
#1 Electric toothbrush
Why not upgrade your Mom's toothbrush to a cutting- edge, electric model? Electric toothbrushes are efficient teeth-cleaning devices and easier to use!
Electric toothbrushes give improved plaque removal compared to manual toothbrushes and are an excellent choice for Mom's who may have mobility or flexibility issues.
Electric toothbrushes also have cool features, like built-in timers that ensure you brush for long enough.
Some timers even break time down into 30-second intervals to ensure your Mom brushes each section of her mouth for the proper time!
Other features including pulsing silicone brushes, pressure sensors to avoid over-brushing and even USB connections with Mom's phone for reporting and recommendations.
#2 If it's going to be candy, it should be dark chocolate
Very few people know that chocolate can be great for the teeth, depending on what kind of chocolate you eat.
If you're going to give chocolate, treat your Mom to the potent compounds in dark chocolate that help fight decay.
How well do they fight decay? Some scientists believe dark chocolate is more beneficial for teeth than fluoride, as dark chocolate contains a chemical compound called CBH that helps harden tooth-enamel.
#3 Smile makeover for a more youthful appearance
Main Beach Dental offers a range of treatments that can help your Mom look younger and more vigorous, and together they comprise a smile makeover.
At the moment, Main Beach Dental is offering a free dental consultation, which includes a consultation on smile makeovers.
While each smile makeover is different, here are some representative treatments that can be involved:
Zoom! Teeth Whitening is a highly effective in-chair teeth bleaching process that significantly whitens your teeth in as little as 2 hours!
Zoom! Teeth Whitening is guaranteed safe for your teeth and gums. It uses a special light to activate the full whitening potential of the teeth whitening solution to eliminate spots and stains.
Your teeth can be whitened to up to 8 shades in a very minimal amount of time.
Teeth whitening at Main Beach Dental
Porcelain Veneers can fix the appearance of cosmetic dental problems such as teeth discolouration, uneven spaces, misshapen teeth, and irregular bites.
White fillings can replace unsightly amalgam ("metal") fillings, and unlike the amalgam fillings they replace, they do not contain Mercury.
Dental implants and Crowns & Bridges are restorative/functional treatments, but they also restore the aesthetic appeal of your Mom's smile.
Dento-facial aesthetics is a collection of dental treatments that create a more attractive and youthful look. These treatments include:
Botox
Dermal Fillers
Cosmetic Dentistry
Ceramic Reconstruction
Dento-facial aesthetics at Main Beach Dental
Thread lifts use resorbable synthetic sutures to tighten the skin and reduce mild to moderate skin looseness. The sutures can reposition, stretch, and recondition areas of the skin that are sagging.
Thread lifts at Main Beach Dental
#4 Gifts for Expecting or New Moms
Pregnant women and recent moms, get less sleep, which can negatively impact bone tissue health and regeneration. This can harm their gums, teeth, and general health.
Pregnancy, childbirth, and raising an infant, these can increase the need for specific vitamins and minerals, including calcium and magnesium, which help build and maintain teeth, support sleep and reduce bruxism.
So, consider a gift basket of vitamins, minerals, and skin-care products containing absorbable magnesium.
#5 Water flosser
Water flossers stimulate gum health and fight gingivitis by removing plaque from between teeth.
Water flossers reach areas between teeth and under the gum line where a toothbrush or floss may not reach.
The gentle, pulsing water flow is less likely to cause bleeding in sensitive gums. Water flossers are also great for people with limited flexibility, dexterity, or mobility.
If your Mom doesn't like flossing or simply isn't good at it, the water flosser is a great Mother's Day gift.
Dental Care at Main Beach Dental
At Main Beach Dental, your dental health is our number one priority.
We are composed of highly trained registered dentists with impressive clinical skills who work together to provide you with comprehensive dental services.
We provide gentle, skilled care for all dental conditions and work with you to prevent disease, decay, and too many dental appointments in the future. Our commitment to our patients is dental health for a lifetime!
FREE Smile Makeover Consultation
Call your Main Beach dentist on (07) 5503 1177 or visit us at 11/26-30 Tedder Ave. in Main Beach.
Alternative number: 0401 004 458